I don't often try new crafts. Occasionally I will do a little painting (like these
peg people
or this
serving tray
) or some embroidery (like this
pencil case
) or maybe a kids craft (like this
bird feeder
or these
snowman
)...But for the most part, I like to stay in my comfort zone for sewing and quilting. So when Stephanie over at
Swoodson Says
mentioned her "Try Something New Every Month" series I was pretty excited about it. Stephanie is trying a new craft every month and she has invited other bloggers to take on the new craft challenge too. I am joining her this month and for my craft I picked wood burning!
One of my goals this year was to get a little bit more organized with my meal planning. I have recipes everywhere, some in books, some on my computer, some on my tablet, it gets confusing and makes meal planning hard. So I decided to go old school with a recipe box, that way I can have all my recipes in one place and pull out the cards I want to use for the week. I picked up this little wooden box at Michael's on clearance for $2 and while I was there, I grabbed a wood burning tool too.
I decided on a knife, fork and spoon design for my box and sketched it out. Then I transferred my design to my box with some transfer paper and got to work burning my design into my box. I didn't bother practicing because I didn't have any spare wood on hand and the box only cost my a couple bucks anyways...How hard can it be right???
OK so it is not at easy as it looks :) My original plan was just the outline of the utensils on the box, but I had a hard time getting my lines to look the way I wanted so I ended up just filling everything in. When I was finished, it looked OK, but I still wasn't really happy with it. I used some dark wood stain to help hide my imperfections a bit and in the end I have a recipe box that I really love.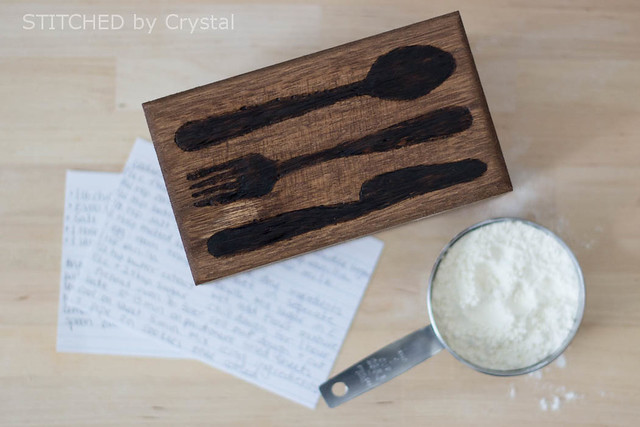 I learned a lot from this project and I am excited to try some more wood burning in the future. Here are a few things I learned from my first wood burning, I obviously still have a lot to learn but these tips may help you if you want to try wood burning for the first time too...
Pick a nice soft wood. My box didn't cost much, and it really wasn't very good quality either. Even after I sanded it the wood was pretty rough and it has a really hard grain. I had a hard time drawing my lines the way I wanted because my wood burner tip just wanted to follow along the grain.
Don't push too hard! I think this was my biggest beginner mistake. I was pushing on my wood burner tip a lot harder than I needed to and ended up with some really burned spots and some wonky lines. Once I lightened up a bit on the pressure, things went a lot smoother!
Practice! OK, maybe this was really my biggest beginner mistake :) I jumped right into my first project without any practice at all. Grab some scrap wood and play around with different tips and also get the feel for how much pressure you need to use and how fast you need to go, the slower you move the wood burner, the darker your lines are.
Keep a set of pliers and a glass bowl near by. This took me an embarrassingly long time to figure out. The wood burners come with several tips and you will probably want to change out your tip during your project. At first, I was turning the burner off and waiting for it to cool to change tips, then I had to wait for it to heat up again to get back to my project. Instead, use the pliers to unscrew the hot tip and place it in the glass bowl, then screw in the new tip and you are back in business!
Pick a simple design. I picked something big and simple, with no letters for my first try, I think it was a pretty good choice!
Thanks for stopping by an reading about me trying my hand at wood burning! Swing by
Swoodson Says
to see the new craft she tried and check out the links below to see all the other bloggers who took on the new craft challenge!